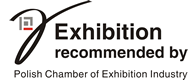 08.02.2018
Do you care about your own development and the development of your employees? Learn from the Masters of HMC Group and Maniewski Academy!
08.02.2018
Tickets to the Fair Buy a ticket today Artego Prestige Night - tickets The evening will be featured by the show by special guests: Rafał Potomski and Sebastian Karczewski Time and place: 24-25 March 2018 / MTP / Hall 11 (Spire)
30.10.2017
We are presenting you with the latest interactive issue of Poznań Fair Magazine "Calendar of trade fair in 2018". It is absolutely unique publication onto polish market! We invite you to click!
More news
---

LOOK Hairdressing Forum
Join us!